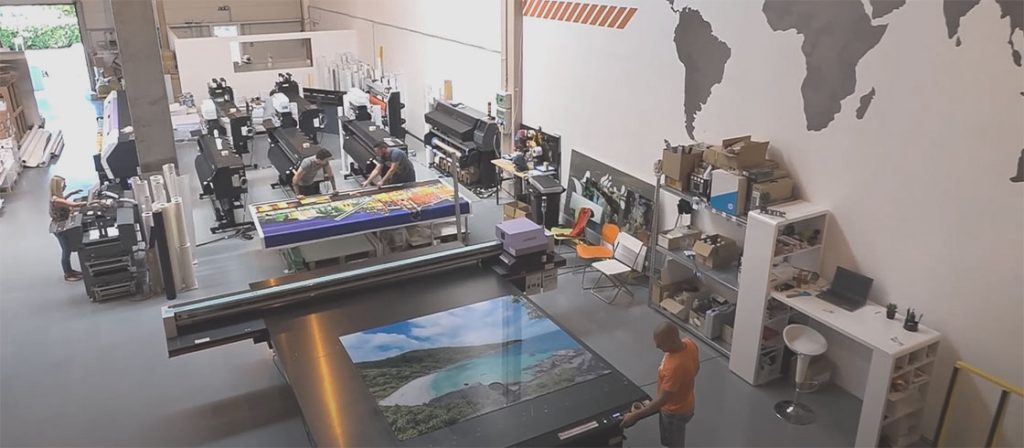 What are the professional aspects the submitted materials have to meet in order to make the printing procedure smooth and perfect?
In order to guarantee fast and quality printing works, proper preparation is essential. In the following, we will try to share with you all the information important for us, so that the joint work goes smoothly and smoothly. If the following basic material delivery criteria are not met, our print shop cannot take responsibility for the quality of the finished products, and the processing time may increase significantly. Upon request, for an extra hourly fee, our graphic designers will help you prepare the basic materials perfectly.
Submitting images, illustrations
The right image resolution is the guarantee for perfect quality prints, regardless of technology. The minimum resolution of images should be 300 dpi (the resolution of raw images, whether photo or stock page, is usually 72 dpi). For giant-sized materials such as molinos, building nettings, posters, raw materials with a ratio of 1:10 and 300 dpi resolution can be suitable. For accurate color reproduction, please prepare the images and illustrations in CMYK color space in all cases. If you wish to provide editable material to us, please include all the photos and artworks used.
Fonts should always be embedded in the press-ready pdf. If the material contains embedded vector logos or illustrations, always transform the text into curve. If possible, we avoid the use of system fonts, because they are not embedded and may differ in appearance by machine. We recommend that you use google free fonts that are available to anyone without limitation for free use (https://fonts.google.com), or if you have an Adobe subscription, then Adobe Fonts (formerly Typekit) fonts (https://fonts.adobe.com). If you provide editable material to our printing house, please include the fonts used.
To match the colors of the intended material and the final product, it is necessary to use a uniform, CMYK color space. The RGB or sRGB (also known as monitor or online colors) is a color space containing much more colors so some of the colors applied there cannot be processed using the conventional four-color process. Examples of these colors are the very vivid, neon colors that many novice or non-professional designers prefer to use as they look spectacular. If the material contains Pantone, LAB, RAL, or any other special colours, they must always be converted to CMYK. It is important that only a few special monitors are suitable for accurate color design, and only if they are calibrated properly. Black texts should be made up of 100% black (K), so much nicer typefaces can be achieved. It is also worth paying attention to the fact that the total opacity, that is, the sum of four colors, should not exceed 300%, because the paint in this case can flow and will dry with difficulty. Complaints with respect to colours can only be accepted in case of approved and signed proof!
UV varnish, die-cutting, bending, gilding shapes
When applying any of the above technologies, vector graphics are required on a separate layer – or on a separate page – in direct color. Machines cannot work from raster material!  The outlines and clipping curves must be of a minimum thickness of 0,25 pt. If possible, drawings should be on a separate page from the artwork or placed on a properly named layer that can be turned off. If they arrive in a separate file, please use 100% of the same position signals as on the material you want to print!
With our special Duplo DDC 810 3D UV varnishing machine, it is possible to "play" with the thickness of the varnish layer. This can be done by entering percentage values: the smaller value will result in a thinner, the larger value a thicker layer of varnish on the final product.
Bleed, other printing parameters
If there is any element on the page that is placed on the edge of the sheet after cutting (i.e. running out of the side), it is necessary to leave a fill (bleed) on that element. This should be a minimum of 3 mm (5 mm if possible), thereby ensuring that there is no white stripe on the edge of the finished product. In all cases, please place crop marks and registration marks on the materials. In any case, the markings should fall outside the bleed (offset), do not stick in the artwork. If the material is bent, perforated or folded, please place these marks in the appropriate format. The spread (margin) variable by material: for business cards it is a minimum of 3 mm, for leaflets, small format publications it is a minimum of 5 mm, and for larger sizes preferably at least 1 cm.
Create PDF only with the Adobe Acrobat PDF driver. If you are working in software that is not designed for pre-press, such as Microsoft Office products such as Word, Powerpoint, or Canva which is now popular  — we do not take any responsibility for any possible errors occurring in the finished materials (lack of accented characters, bad colors for example). Preferably use the PDF/X3 or PDF/X1 standard to prepare your files. Prepare the material in composite CMYK pdf with embedded fonts and images in 300 dpi resolution, 1:1 ratio. Please write the entire material in one file, by page, avoid using page pairs. If you send your material edited, please consult out colleagues in advance in all cases! We can do correction in the completed materials only for the responsibility of the customer, it will be returned for a new proofing.
Submitting material if you ask us to do the formatting:
Graphic elements, logos, illustrations
If possible, attach 300 dpi, CMYK images, or vector files (converted to curves) to the submitted material. If you are sending InDesign material, please use the software's built-in Package Creator feature, which will organize all the necessary items into one package and update the links accordingly.
Include all the font sets used in each case, even if very well known, Google or Adobe fonts were used when designing.
Word, Excel, or Powerpoint document
If you prepare the basic layout in any of the programs, still attach separately all graphic elements and fonts used, these cannot be retrieved from the completed material in a printing quality.
If there is no pre-prepared layout, please attach a scenario to the material. This includes broad lines of any chapter titles, custom formatting requests, and formatting information. If your company has an image manual, please send it to us.
ubmitting finished printable files
For large-sized materials
We suggest to use the wetransfer.com file transfer site which is free for up to 2 GB or you can share using Dropbox, Onedrive or other cloud-based storage. Please avoid using Google Drive if possible, since the download is not resolved for folders exceeding 2 GB or with many files.